Monitoring purposes: Sold long SPX on 7/2/20 at 3130.01= gain 1.5%; long on 6/25 at 3083.76.
Gold Monitoring purposes: Sold () on 6/11/20 at 32.83=gain; long GDX on 6/8/20 at 32.79.
Long Term Trend SPX monitoring purposes: Short SPX 5/13/20 at 2820.
1. S&P 500
Yesterday the SPY was higher, along with the , which is a short term divergence.  Yesterday's rally to new short-term highs came on lighter volume, which is another divergence. Going into yesterday the SPY was up 5 days in a row. This suggests market will close higher within five days 83% of the time.  A clue that market has reached short-term exhaustion is when the tick close above +700 and, added to other divergences could end up creating a short term sell signal. We are neutral for now.
Sold long SPX on 7/2/20 close for a gain of 1.5%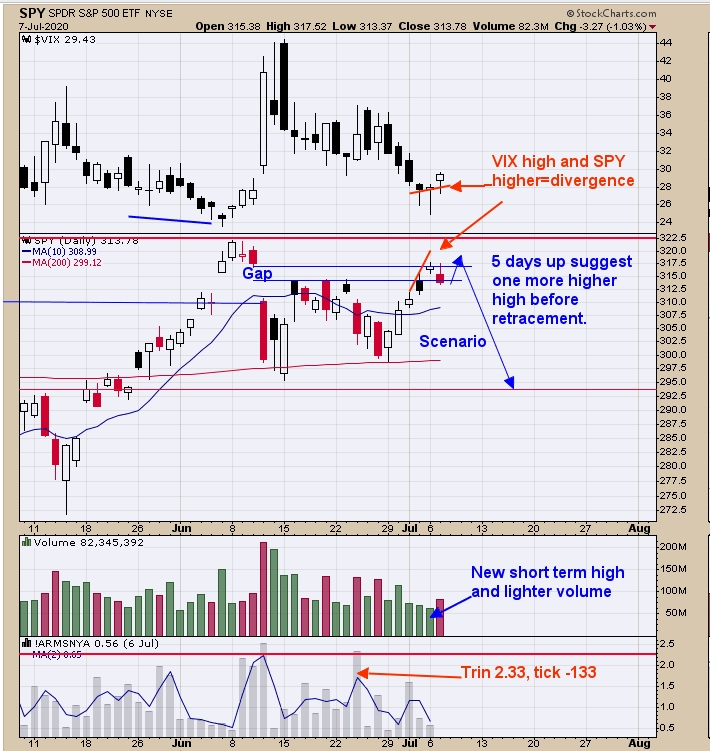 2. CBOE Equity Put/Call Ratio
Below is the 21-day average of the equity put/call ratio going back to mid 2003.  Readings below .53 have marked…