Fresh off a record-breaking 2019, Natural Power has made several significant hires in its technical advisory team to enable continued growth and to further strengthen capabilities in independent engineering and technical due diligence, bolstering both the company's capacity in North America as well as its service offerings across all renewable energy sectors.
Recent additions to the team include Chris Mertes as Head of Advisory and Matthew Filippelli as Offshore Services Lead, as well as several specialist principal engineers and project managers to increase the team bandwidth.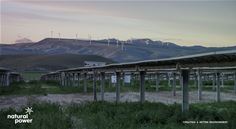 Co-location California
Jim Adams, Natural Power's President of North American Operations, said: "During 2019, our US-based advisory team provided technical due diligence on nearly 15GW of renewable project capacity within North America, including 11.5GW of late-stage, pre-construction wind projects and 1.3GW of late-stage, pre-construction solar.
He continued: "We have demonstrated 50% growth year on…