Judging by the stock market, the odds are rising for a reflationary run. Economic data, however, offer a conflicting view.
Let's start with stocks, everyone's favorite discounting machine for guesstimating the future. The , after plunging last month at the steepest, fastest pace in the past 70 years, is on a tear following last month's low. As of yesterday's close (Apr. 29), the peak-to-trough decline has been pared to relatively modest 13.2% slide—less than half the deepest point in the latest drawdown: -33.9% on Mar. 23.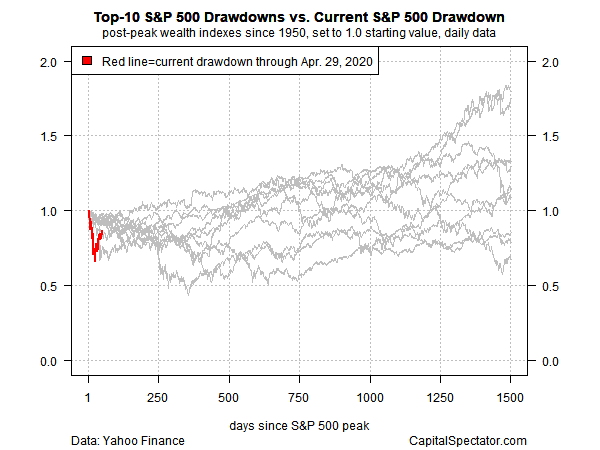 Top 10 S&P 500 Drawdowns
By the market's reckoning, the economic rebound will start soon and the snap-back will be dramatic. That would, of course, be great news. But getting from here to there still looks complicated, in part because the US coronavirus data remains volatile, which suggests the timing for a peak in this crisis is still open for debate.
Consider, for example, yesterday's update on the daily change for new fatalities. According to