Equity indices rebounded yesterday, following a rebound in oil prices. Perhaps this was the result of hopes that major oil producers will expand or extend the already agreed production cuts. As for today, market participants may pay close attention to the US initial jobless claims for last week, as well as the Euro-area and US and PMIs for April.
EQUITIES GAIN AS OIL PRICES REBOUND

The dollar continued trading slightly higher against the majority of the other G10 currencies. It gained versus NOK, EUR, NZD, CHF and JPY in that order, while it underperformed versus GBP, CAD and AUD. The greenback traded virtually unchanged against SEK.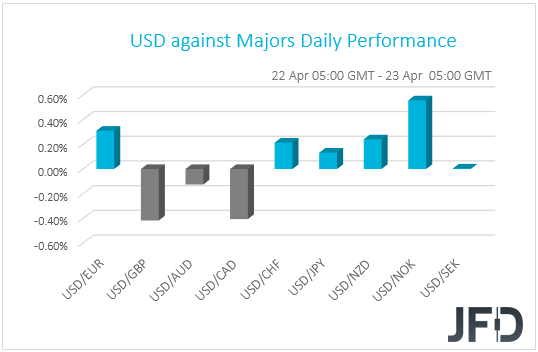 USD performance G10 currencies
The performance in the FX sphere paints a blurry picture with regards to the broader market sentiment. The dollar remained relatively strong and the slid, which suggests a risk-off mood. On the other hand, the Aussie gained, while the yen and the franc were slightly lower, which suggests otherwise. Therefore, we prefer…