Although most EU stock indices traded in the green yesterday, the US and Asian ones slid as WTI plunged to negative waters for the first time in history. It seems that with storage tanks getting full, holders of May contracts preferred to sell instead of taking delivery. They may have been willing to pay other people than taking the burden of extra storage cost.
RISK ASSETS FALL, SAFE HAVENS GAIN AS WTI FALLS BELOW ZERO

The dollar traded higher against all but one of the other G10 currencies on Monday and during the Asian morning Tuesday. It gained the most versus NZD, AUD, CAD and NOK in that order, while it eked out the least gains against CHF. The only currency that managed to outperform the greenback was JPY.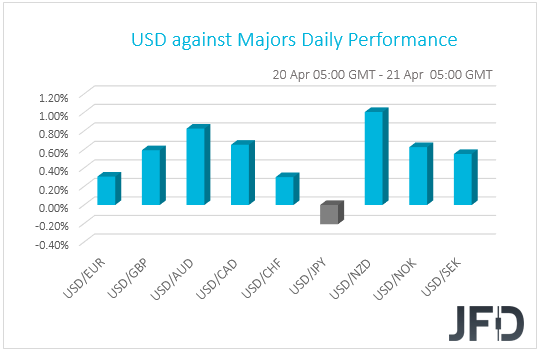 USD performance G10 currencies
The relative strength of the safe havens, combined with the weakness in the commodity-linked and oil-related currencies, suggests that market participants traded in a risk-off manner yesterday. Indeed, although the majority of the EU indices…