Risk Appetite was supported once again during the Asian morning today, perhaps due to more signs that the coronavirus spreading may be leveling off, as well as due China's better-than-expected trade data. Although further slowdown in the pandemic's spreading may keep sentiment supported, we are still reluctant to trust a long-lasting recovery, and we prefer to take things day by day.
ASIAN EQUITIES GAIN ON VIRUS SLOWDOWN AND CHINA'S TRADE DATA

The dollar traded lower against all but two of the other G10 currencies on Monday and during the Asian morning Tuesday. The main gainers were AUD, NZD and GBP in that order, while the only losers were NOK and SEK. The greenback lost the least ground against EUR, CHF and JPY.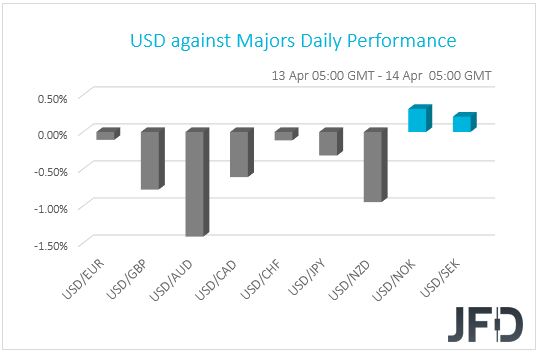 USD performance G10 currencies
The strengthening of the risk-linked and , as well as the relative weakness of the dollar, the yen and the franc, suggest that risk appetite was once again supported. Shifting attention to the equity world though, we see that both the …