It's Going to Be a Very Long Weekend
What a session we have in store; an OPEC+++ meeting, U.S. and the final trading day for most heading into the Easter weekend. It's going to be all action.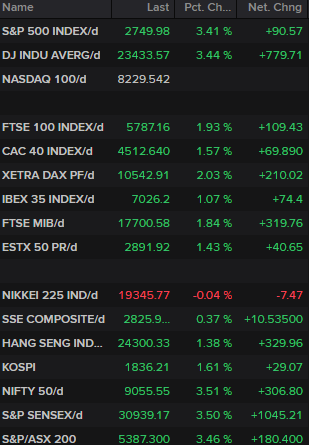 Indices
Europe is playing a little catchup this morning after the US rallied into the close and Asia posted decent gains overnight. The withdrawal of Bernie Sanders from the Democratic leadership race seemed to be the catalyst for the move but it came in a market in which investors investors look pretty keen to jump back in. Sometimes they just need a little nudge.
Under the circumstances, there appears to once again be a case of FOMO investing happening. Let's face it, no one likes to be the only one that missed out on the bargain of a lifetime, and these markets are heavily discounted after all. But is this the right time? That's debatable and only time will tell.
The US is fast becoming the biggest victim of the coronavirus spread with almost another 2,000 deaths in the last 24…