Risk appetite eased somewhat during the US session yesterday, and the Asian trading today, as both infected cases and deaths due to the coronavirus spreading returned into acceleration mode, with deaths hitting a new daily record. The slide in oil prices may have also contributed in easing investors' risk appetite. Both and slid yesterday, as the API reported the biggest gain in inventories since January 2017.
CORONAVIRUS CASES AND DEATHS ACCELERATE AGAIN

The traded lower against all but one of the other G10 currencies on Tuesday and during the Asian morning Wednesday. It lost the most ground against NOK, CHF and EUR, while it eked out some gains only against JPY.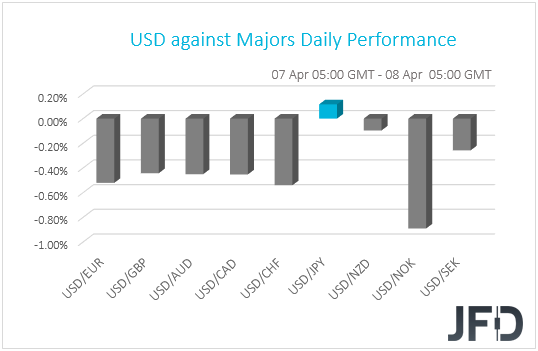 USD performance G10 currencies
The weakening of both the dollar and the yen suggests another day of risk-on trading, but the strengthening of the franc points otherwise. Thus, bearing in mind that the FX performance paints a blurry picture with regards to the broader investor morale, we will turn our gaze to the…