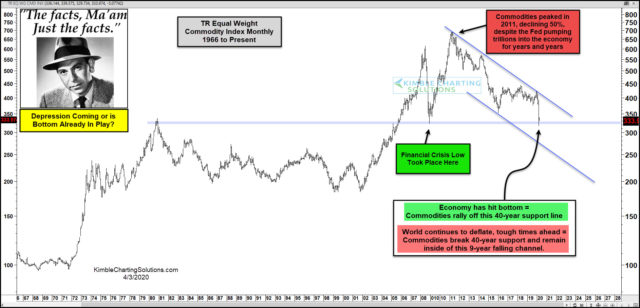 Are we headed towards a depression? Or, is the worst already behind us? In today's world, comparisons to the Great Depression are easy to find.
Are the depression concerns well founded? Or, are the declines of late already pricing in a bottom?
In my humble opinion, this chart and the upcoming price action of this index will go miles and miles towards telling us if we are headed towards very tough times or if the huge declines of late are actually in a bottoming process.
This chart looks at the Thomson Reuters Equal Weighted Commodity Index on a monthly basis over the past 54 years. The index has been heading south, reflecting weakness in demand for basic commodities over the past nine years, despite easing of credit around the world by central banks.
The index tested 29-year support in 2009, which ended up holding, reflecting the worst of the financial crisis was priced into the market.
Now, the decline over the past nine years has the commodity index currently testing the…