Cause For Optimism?
Stock markets are heading into the weekend in the red, but investors may be a little encouraged by how the week has gone despite notching up small losses along the way.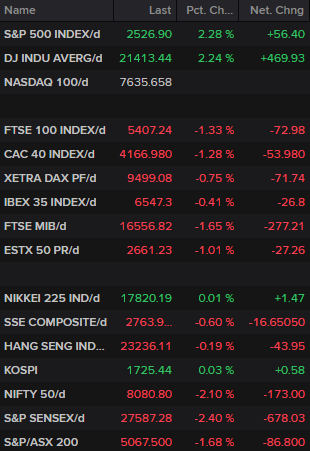 Indices
The extraordinary moves that became an all-too-regular feature in March are occurring less frequently or severely. The falling knife scenario that we were seeing is looking less hazardous which may entice people back in, with stocks still trading at very discounted levels.
I must stress, this is not me calling a market bottom. The next two weeks will likely be quite distressing in the coronavirus fight and I expect that may have knock-on effects in the markets as well. If the panic selling has passed, as it appears to have done, it will be interesting to see what kind of defence the March low puts up, if tested.
The next test for investors was touted to be the economic data and I must say, I've been flabbergasted by the lack of response its had. The data from the US has been utterly…