Huge two weeks for markets
Stock markets in Europe have opened a little mixed on Thursday after the second quarter got off to a disappointing start a day earlier.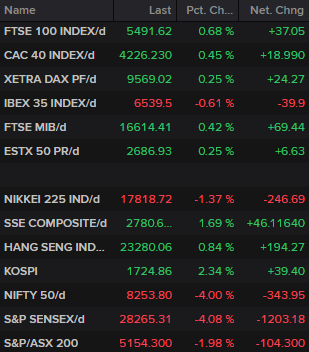 Indices
The change of tone from Trump on Tuesday seemed to really dampen the mood in the markets after a good week heading into the end of the first quarter. The realization of how bad things are going to get and how dreadful the next two weeks are going to be appeared to weigh heavily on risk appetite just as stock markets were starting to pick up.
The numbers we're going to see over the next few weeks are going to be shocking, both in terms of the death toll – projected to be more than 100,000 in the US and as high as almost a quarter of a million – and the economy. The US jobless claims number last week was horrific and this week is expected to be even worse.
While much of this may prove to be temporary, plenty won't and at the moment, it's impossible to know how many that will be. Markets gave the jobless…