The usual Monday morning sell-off has been less severe than we've seen in recent weeks, although Europe has been moving deeper into the red in early trade after a relatively unchanged open so that may change quickly.
Asia wasn't so lucky but then, there was some catch up to be had following another sharp decline in Europe and the U.S. on Friday. The losses are pretty modest by recent standards as well so investors may even be a little encouraged, depending on how the rest of the day goes in Europe and the U.S.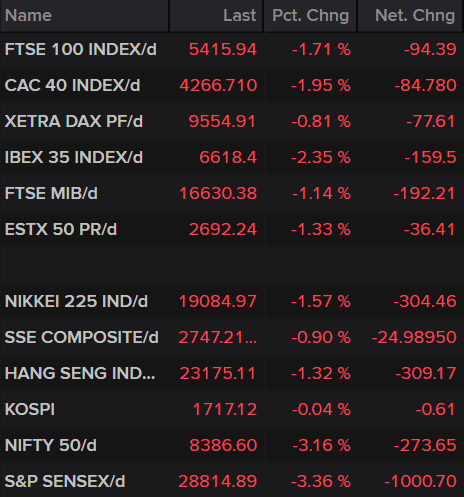 Equities Chart
Source – Thomson Reuters Eikon
The news over the weekend was no more pleasant, with the death count nearing 34,000, up almost 7,000 since Friday. Italy will be hoping that two consecutive days of fewer deaths is cause for optimism, although it may be cautious optimism following last week's false dawn.
The raft of global stimulus measures continued on Monday, with the People's Bank of China cutting the reverse repo rate by 20 basis points, Monetary…