Turkish electricity company Dicle Elektrik adopts fully-rugged TOUGHBOOK tablets to improve processes for its field workers in the most challenging conditions.
BRACKNELL, UK. 24th March 2020 – Dicle Elektrik, the Turkish electricity provider, has equipped its field service workers with approximately 1,500 TOUGHBOOK M1 devices to increase its service quality and improve processes.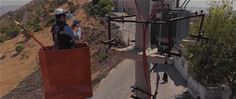 Dicle Elektrik field workers adopt TOUGHBOOK M1 tablets
Dicle Elektrik supplies electricity throughout the Southeastern part of Turkey, the ancient lands of Mesopotamia, Diyarbakır, Şanlıurfa, Mardin, Siirt, Şırnak and Batman. It serves more than 1.8 million subscribers in this area, which covers more than 60,000 km².
Dicle Elektrik teamed up with Panasonic to automate operations and manage its field operations more effectively. The TOUGHBOOK M1 tablets are also used in important areas such as power theft control and maintenance repair.
Dicle Elektrik aims to increase customer satisfaction
With Dicle…