Originally published March 20, 2020 
Market Overview: Weekend Market Update
The  continues to sell off with no sign of a bottom. It might have to test 2000 before a strong short-covering rally will begin.
The bond futures market has pulled back from an extreme buy climax. Traders expect a trading range for several months.
The  Forex market made a new low in its 2 year bear trend. Consecutive bear bars closing below the February low make at least slightly lower prices likely.
30 year Treasury bond Futures market:
Reversal down from extreme buy climax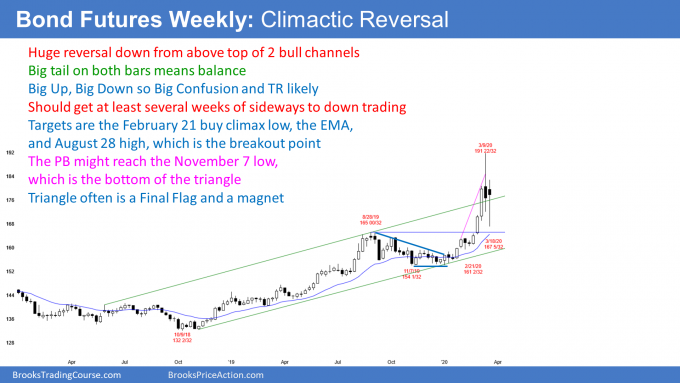 The Treasury bond futures market has pulled back for the past 2 weeks from its most extreme buy climax in history on the weekly and monthly charts. This reversal will probably continue sideways to down for a few months. Typical minimum objectives are 2 legs sideways to down and about 10 bars.
When there is a Big Up and then a Big Down move, there is Big Confusion. Traders look for reversals because they do not believe moves up or…