EU and US equity markets rebounded yesterday on announcements of fiscal stimulus packages from Spain and the US. The FOMC also took further measures to fight the effects of the coronavirus, noting that it will be purchasing short-term corporate bonds. That said, Asian bourses traded in the red today as the coronavirus new cases and deaths hit records yesterday. With regards to the FX world, NOK and CAD were the big losers, feeling the heat of tumbling oil prices.
WHITE HOUSE PLANS DIRECT PAYMENTS TO AMERICANS
The dollar traded higher against all the other G10 currencies on Tuesday and during the Asian morning Wednesday. It gained the most versus NOK, CAD and AUD in that order, while it gained the least versus JPY and CHF.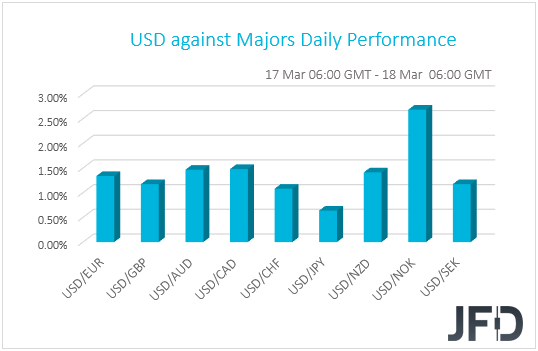 USD performance G10 currencies
The relative strength of the yen and the franc suggests a risk-off trading, while the slide in the krone and the Loonie suggests that oil prices kept tumbling. Although the latter is correct, the former conclusion is not that right….