The rout in risk assets is no longer just about the coronavirus. Yes, we can highlight a dozen economic negatives directly from the virus but we have gone beyond that, or are close to that point. We are not efficient market proponents, but the market is certainly capable of looking out beyond a year or two, when we will recover from the virus.
The EU announced it's highly likely to be in recession, while the spoke the same words for the U.S.
Even in a worse-case scenario of about 4% global mortality, you could argue that several assets are underpriced. Yet, what's being priced in now are the second-order effects. There are increasing solvency risks in the and mass bailouts in aviation are already underway. The entire hospitality industry is under threat with countless small restaurants and businesses likely to be pushed over the edge.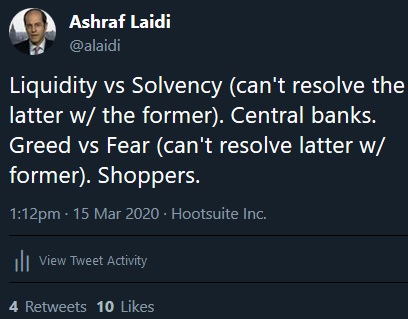 Tweet – Ashraf Laidi
An early tell on how the government will proceed, is the structure of an airline bailout. The WSJ reports the White House…