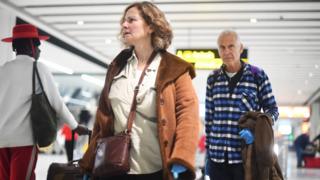 One of the UK's biggest insurers has cut back on the cover available in new travel insurance policies because of the coronavirus outbreak.
Aviva says that people will still be able to buy its travel insurance – but they will not be able to add cover for travel disruption.
A spokesperson said: "We have decided to adjust our cover to reflect the current risks posed by coronavirus."
The news comes as airlines cancel thousands of flights worldwide.
Aviva customers who bought travel insurance before Monday still have the full level of cover.
But if the UK Foreign Office advises against travelling to further countries, a new Aviva policyholder would now not be able put in a claim under the travel disruption clause.
Instead the customer would have to wait to see if airlines cancelled flights, then put in a claim under a different clause called "abandonment"….